Mpumalanga Attractions: Top 6 waterfalls in Graskop area you need to visit
Posted on Fri August 3, 2018.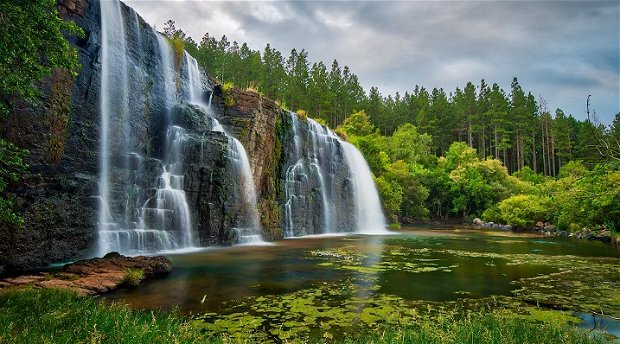 When you make your way to your Graskop accommodation for some Mpumalanga attractions, you will notice how the scenery, plant life and air change around you. Whether you are traveling from Gauteng and the brick walls turn into grasslands and eventually a waterfall of green leaves. Or if you're coming from another country making your way through Southern Africa. 
These green rolling mountains and fresh air have so much to offer each and every person. If you're a waterfall lover, this post is going to blow your mind!
Without further ado, let's get into it: The five waterfalls in Graskop area that you need to include in your travel plan when making your Graskop Accommodation Booking. 
Berlin falls is situated close to God's Window. This mesmerizing waterfall got its name from European miners that named the falls in the area after their hometowns. 
These falls are ideally located so you can pop by while on route to places like Potluck Boskombuis or Bourke's Luck Potholes. 
Many people have noticed that the cascading water forms a candle-like shape. With the short and narrow stream of water forms the wick, while the broader cascade of water looks like the candle's body. 
The Berlin Falls is definitely a waterfall worth visiting while staying at Graskop Accommodation. 
Lisbon falls is a very popular Mpumalanga attraction. This is due to the fact that it is the tallest waterfall in Mpumalanga. While it is only a tenth of the height of the tallest in Southern Africa (Tugela Falls) it certainly is worth a visit. 


This waterfall is a stunning 94 meters high, with the main river splitting into three before falling into a beautiful pool of water. 
Autumn Breeze is ideally located and just a 10-minute drive to this awesome Mpumalanga attraction. 
Mac Mac falls is just one of those places you HAVE to visit in Mpumalanga. This waterfall is situated between Graskop and Sabie. Therefore, if you're making a day-trip to Sabie, this is the perfect place to stop for some sightseeing. 
Mac Mac Falls greets you with a vibrant African market where there are many arts and crafts on sale. Thereafter you go on a short walk to get to the waterfall viewing platform. 
"The 65 m high Mac Mac Falls in the Mac Mac River is a declared National Monument.
This waterfall was originally a single stream, but gold miners blasted it with dynamite to divert the river in an attempt to work the rich gold-bearing reef over which it plunges." - Graskop Tourism Website
This is Mpumalanga's best-hidden gem. Some people have tried finding it, with no luck. It is situated between Graskop and Sabie and takes you on a walk through the forest before laying our eyes on it. 
And it is so worth it! 
The walking trip is approximately 7km long, and you can leave your car at a picnic spot (cars are not allowed to drive in the forests). Feel refreshed by the crisp air and wind in your hair on this beautiful nature walk on your way to Forest Falls! 
This magnificent waterfall is ideally situated in Graskop. It is one of those places you'll never forget going to/ 
An added bonus, of course, is that there are few entertainment areas surrounding The Panorama Gorge Falls to keep the whole family busy. A fairly recent development called The Graskop Gorge Lift Company. This development allows for a peaceful day out with various shops, craft markets, and a restaurant!

The best of all: You get to view this amazing waterfall from an amazing venue. 
Furthermore, there is The Big Swing and The Foefie Slide/Zipline. allowing all those adrenalin junkies to et in their fix for the day! Read more on these activities on our blog post: 5 Things every Adrenaline Rush Junkie needs to do before they die!
Maria Shires Falls are right between Graskop and Sabie. There is a lovely picnic spot right across from the entrance
This is the perfect spot to take the family out for a picnic day, short hike and exploring! Finding the waterfall is relatively easy as there is a marked path leading to the beautiful waterfall. 
If you are looking for some more adventure, you can go looking for Maria Shires' family graves at the top of the waterfall. 
Accommodation in Graskop
Autumn Breeze is a Bed and Breakfast located in the heart of Graskop. 
We have various rooms available, you can check out all the info here: Autumn Breeze Graskop Accommodation 
What are you waiting for? Contact us today for your booking!