Historical Sites of Interest close to Graskop
Posted on Mon September 3, 2018.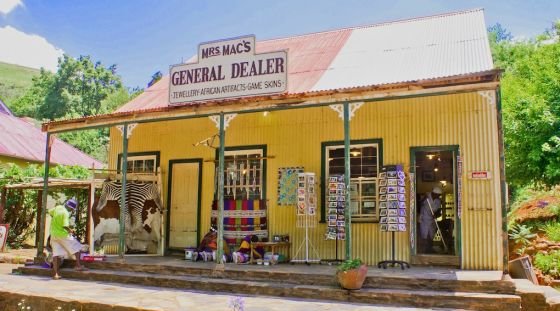 If you love history, Graskop is one of those places you need to visit!
They are close to so many historical sites of interest that it's the most convenient getaway place for any history lover!
At Autumn Breeze we strive to bring you information regarding all the tourist sites in and around Graskop. We want to make your visit to our beautiful town memorable. Whether you are a foodie, adventure seeker, family person or a lover of history! 

So we've gathered some information regarding historical sites near Graskop so you know where to go for a historical experience!
Pilgrims Rest
Pilgrims Rest is one of the most well-known towns in Southern Africa. This town is held so precious by South Africans, that it has been named a "museum town" and is protected as a provincial heritage site. 
This town is about 30 minutes drive from Graskop. Therefore, it is an ideal day-trip when vacationing in Graskop. This is yet another town born out of the South African gold rush era, and by 1873 there were 1500 inhabitants mining for gold all over the Pilgrims Rest area. 
the site was named a national heritage site 1986, and the architecture remains the same as way back when the gold rush started. The whole town and all the buildings in it has a distinct "old-time" feel. 
Some of the attractions in Pilgrims rest is The Vine Restaurant and Pub, a local favorite! And of course the graveyard, with one grave facing in the opposite direction as all the others, locally known as "The Robbers Grave". 
Furthermore, the town boasts with a golf course, gold panning and some ghost tours all around Pilgrims Rest. Definitely a place worth visiting while in Graskop!
Jock's Memorial
"Jock - Staffordshire bull-terrier - was born in the present day Kruger National Park near the Pretorius Kop Camp. He was the runt of the litter and the young Fitzpatrick saved him from certain death by adopting him as a pup. Percy Fitzpatrick became a transport rider - carting supplies for the goldfields at Pilgrim's Rest and Barberton from Delagoa Bay (now Maputo) in Lourenco Marques (now Mozambique).
Jock grew up to be a faithful and obedient companion, as well as a champion fighter and hunter. Jock accompanied Fitzpatrick on his journeys through the KNP, as well as through the towns of Sabie, Graskop, Pilgrim's Rest, Baberton and Lydenburg.
 In 1983 the Lowveld Digger's and Transport Rider's Society erected these bronze plagues on rocks wherever Jock's original route crossed the present day roads." - Path Finder
The story of Jock has spread far and wide, and has even been transcribed into movies! The latest one was an animated film, released in 2010.
Shangana Cultural Village
"Midway between the Blyde River Canyon and the southern Kruger National Park, the residents of the traditional villages of Shangana invite guests to share in the way of life of the Shangana people. The picturesque villages are set in the shade of ancient trees in a reserve of forest and grassland, and are open every day." - Shangana Cultural Village
The Shangana Cultural Village offers tourists a unique experience in the life of this culture. They offer various tours that include dancing, drumming, forest trails, songs, music, traditional meals and so much more. This offers anyone the chance to get to know the culture, people and surroundings in a way that you've never seen it before. 
You can check out their tour packages on Shangana Cultural Village's website
Sudwala Caves

Sudwala Caves is said to be as old as 240 million years. When visiting this amazing natural attraction, it's not hard to see why it's a once-in-a-lifetime experience for so many people. 
With various attractions like the Caves, The Crystal Tours, The Fountain of Youth, the amphitheater and fish-spa, you are hard-pressed to give reasons why you shouldn't visit this heritage site. 
Whether you are a local or a tourist, Sudwala Caves are sure to leave you breathless. 
While these are only four historical sites, they are sure to leave you with memories to last a lifetime! 
Accommodation in Graskop 
At Autumn Breeze we love having guests from all over explore our beautiful panoramic route. 
Check out our bookings page for availability and pricing on Graskop accommodation. 
We have various rooms (Bed and breakfast and self-catering) available. Whether it's for a couple or a group, we can assist you with comfortable accommodation while you explore the natural and man-made wonders in and around Graskop. 
We pride ourselves in always giving the best customer service, and it is reflected in the multitude of reviews on Trip Advisor! 
If you are still unsure whether or not Graskop is the place for you, check out some of our previous blog posts on things to do in Graskop: