Top 3 Mpumalanga Day Hiking Trails: A hikers heaven
Posted on Fri August 17, 2018.
If you're an avid walker, you would know that finding the perfect hiking spot is difficult. So we've rounded up some of the most amazing hiking trails Mpumalanga has to offer, so you don't have to!
Mpumalanga is filled with greenery, scenery, and wildlife. But some of us want to take it further than just sipping a glass of wine while taking in the view. Some of us want to explore and be apart of nature. And we call ourselves walkers and hikers. 
Graskop and the Panorama route has so many hidden gems for hikers, that we decided to dedicate a whole post to round up the best of the best. 
So here we go:
Jock of the Bushveld / Fairyland Trail
If you're looking for some interesting, one of a kind landmarks this needs to be at the top of your "To Hike" list. 
About 1km south-east of Graskop town there is giant rock formations with very distinctive shapes and names. These rocks have been there for thousands of years. They are remarkable, to say the least. 
To view these natural sculptures, you can go on the 3-hour circular trail. It starts and ends at the Graskop holiday resort. 
On route, you will get to see some amazing sites. You will walk through grasslands to the edge of the pinnacle gorge for a spectacular view. Thereafter you will also get to see Sir Percy Fitzpatrick's overnight camp ("Paradise Camp") as well as "Fairyland" with it's oddly shaped rock formations as mentioned above. 
Photo Credit: Graskop
What you need to know before delving into the Jock of the Bushveld / Fairyland Trail:
Take refreshments
Take sunblock (Most of the trail is walked with little to no shade, so be prepared to reapply that sunblock once or twice!)
Free of charge. 
8km hiking trail
Belvedere Day Walk
Another p circular hiking trail in the Graskop area is the belvedere day walk. This day walk might not be up there with the most popular, but definitely one of the most rewarding hikes in the area
This is a reasonably strenuous walk but beyond worth it. It gives you amazing views of the Blyde river canyon while descending 400m below the Bourke's Luck Potholes. 

"The now-defunct Belevedere hydro-electric power station is 400m below the Bourke's Luck Potholes. Built in 1911, it was once the largest of its kind in the southern hemisphere." - Best Hike 
While the trail might be a bit rough, the views are spectacular and well worth the effort.
 Photo Credit: Ron Mitchell Adventure
What you need to know before going on the Belvedere Day Walk:
Hikers must be registered and start the trail before 1 pm at Bourke's Luck 
R55 per person entrance 
R55 Trail Fee (Please call in advance to confirm 013 769 8926) 
Sunblock 
Water and/or refreshments
10km hiking trail one way (20km in total) 
Graskop Day Trail / Forest Falls Trail
If you are out and about looking for a more relaxing trail that won't be too strenuous but still rewarding, we highly recommend the Graskop Day Trail / Forest Falls Trail. 

This amazing walk starts off at the Graskop Hut and ends at the amazing Forest Falls. While on this 13.3km hike you will walk through pine forests, over the Mac Mac concrete bridge and at last enter the indigenous forests where you'll find the Forest Falls. 
These falls are far wider than they are high, and offer the perfect swimming spot to cool off after a hike!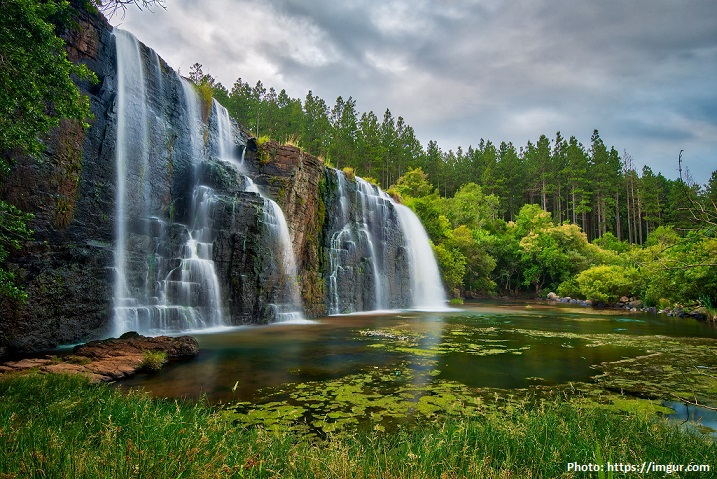 What you need to know before going on the Graskop Day Trail / Forest Falls Trail:
Bring swimming clothes! 
The raining season can make many of the paths slippery and muddy. Bring appropriate hiking shoes. 
You need to obtain a permit from the Graskop Information Bureau at R20.00 p/p. You will also be required to sign an indemnity form 
There many other Trails to choose from like the Loerie Trail, the Fanie Botha trail, and Bluderivierspoort trail. But most of these are hikes that require three to five days.  
But if you're looking for a day-trip trail these three should be at the top of your list. They might not be well-known but they are definitely worth the visit because of the spectacular views, flora and fauna available on the panorama route. 
Accommodation in Graskop:
When you visit Graskop, we know you're coming for the views, culture, and people. Therefore, we have put together a quick list of all the things to do in Graskop in a compilation of posts: 
Autumn Breeze Bed and Breakfast know that you are in the area to explore. Therefore, we cater to your needs by supplying you with a hearty breakfast before sending you off on a day of adventures along the panorama route. 
We have a wide variety of rooms to choose from. You can check out our rooms and availability on our "Rates" page.